[Click on the map to browse]
---
Due to security concerns these chargers are not accessible until further notice.
-- 10/2001
---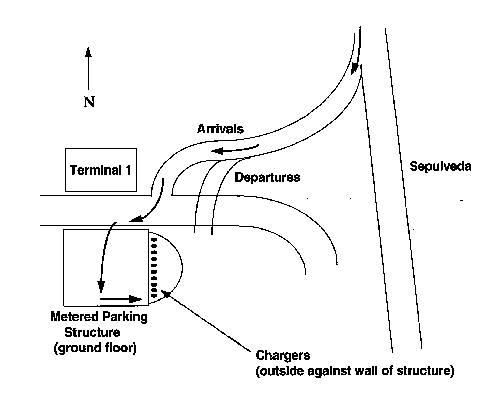 The LAX chargers are finally up and running, all 10 of them. One is a combined EV/handicapped space.
They are located just outside the east end of the metered parking structure across from Terminal 1. From the north entrance to LAX (off Sepulveda), keep in the Arrivals lane. Then, joining the airport loop, cut across all lanes of traffic (yikes!) and make the first left into "metered parking" - go straight into the structure (S.), make a left at the end (E.), and exit the structure on the east end. Then, there they are, EV heaven!
-- Geoffrey Sommer 9/9/97
---
Restaurants at LAX...
One of my favorite restaurants ANYWHERE IN L.A. is "Encounters" at LAX in the "Theme Building." Not cheap, but great food, great service, and the ambiance is George Jetson! I have taken several friends out there just for dinner - everyone loves it!
For a no-frills meal, my little secret is in the Theme Building as well: The Employees Cafeteria at ground level on the perimeter walk to the right of the main entrance has OK food at good prices. Anyone can eat there - they don't ask for airport employee ID's.
-- Kris Trexler 1/22/98
---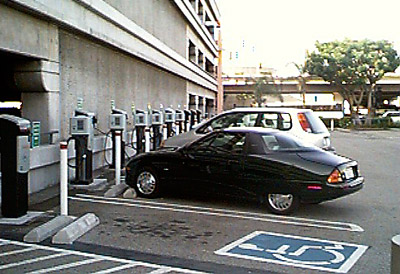 -- Jeff Church 10/1/98
10/1/98 Update
The confusing sign that explained that EV's could park in space #1 has been removed. Usully non EV's parked there. A new sign will be created as soon as I come up with a good verbage that will essentially say ev's can use this space without a DP placard, but only if all other charging spaces are in use when you park. Non EV's, even bearing a DP placard will towed. Currently, you may park there without a DP placard, and the airport police have been told of such.
6 conductive EVI chargers have been added to spots #2-7. Each is on the same circuit that the Magnecharger on the same pedistal is on. There is one 40A circuit per pedistal. So if a magnecharger is being used and is at full rate of charge, cross utilizing a conductive charger will trip the breaker. Be smart about about it, but it's not a big issue.
The airport authority has recently installed chargers in their own maintenance yard, for exclusive use by their vehicles. (Secure non-public areas) On occasion you may see a landscape or other LAX vehicle at the chargers, but they are usually in the maintenance yard for charging. This should "free up" at least 2 charging locations.
-- Jeff Church 10/1/98